In February, 2012, I visited some friends in Manchester, UK, and had the privilege of trying a delightful pub snack called the Manchester Egg. It is made of a pickled egg covered in sausage and black pudding then rolled in crisps and deep fried. It is a variant of the Scotch Egg and is now being served at four locations within Greater Manchester.
I was so inspired by this delicious treat that I decided to make my own variant of the Manchester Egg, using ingredients that are both made in Michigan and true to the dining culture here. It took me a bit of expirimenting to get it right, but it came out great.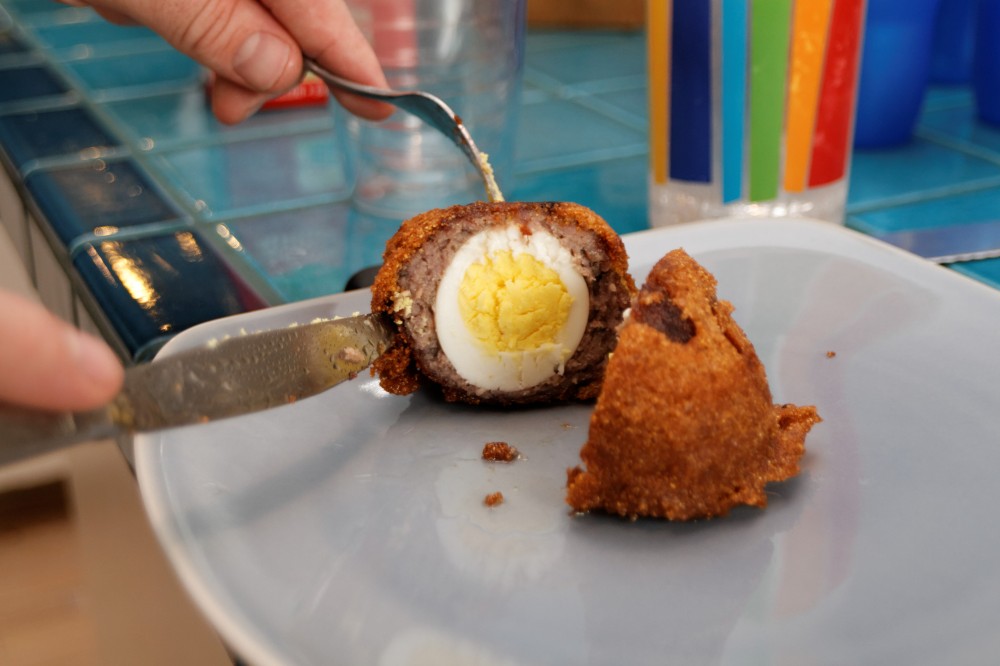 The Detroit Egg is a spicy pickled egg that is wrapped in a mixture of sausage and maple syrup, then dipped in cornbread batter and deep fried. It can be made entirely of products that are grown or made right here in Michigan.
Here is my recipe:
Ingredients
Jumbo Michigan farm eggs.
McClure's Pickle Brine
Medium Pork Sausage
Michigan Maple Syrup
Jiffy mix, from Chelsea Milling Company.
Preparation
The first step is to pickle the eggs. McClure's makes the perfect brine for the pickling process, and can sometimes be found in stores at Eastern Market. Add cayenne and habanero peppers to add spice to the flavor. Use your favorite method for hard-boiling eggs, (Here is the strategy I use) then soak them for 3-4 days in brine. (Here are some good tips for pickling eggs.)
Once you have pickled your eggs, the next step is to mix the sausage with maple syrup, and cover the egg with it. Once you have the egg fully covered with the sausage and maple syrup mixture, pre-cook it in the oven for about 20 minutes at 400 degrees, or whatever it takes to make sure the sausage is fully cooked.
Once the eggs are done pickling and pre-cooked, they can be saved in your fridge until you are ready to eat them.
Deep frying and serving
Now it's time to make your Detroit Eggs! At this point, mix your cornbread batter, and dip each egg into the batter, covering it completely. It is best if you can do this by touching as little of the egg as possible, but make sure to roll it in the batter at least once to fully cover it before removing the egg from the batter. Try using Jiffy's corndog recipe to get the proper consistency. Set your deep fryer to 350 degrees, and submerge the egg completely in the deep fryer for about 6 minutes. Remove the egg from the fryer, and let the grease drip off of it and cool for about 5 minutes before serving.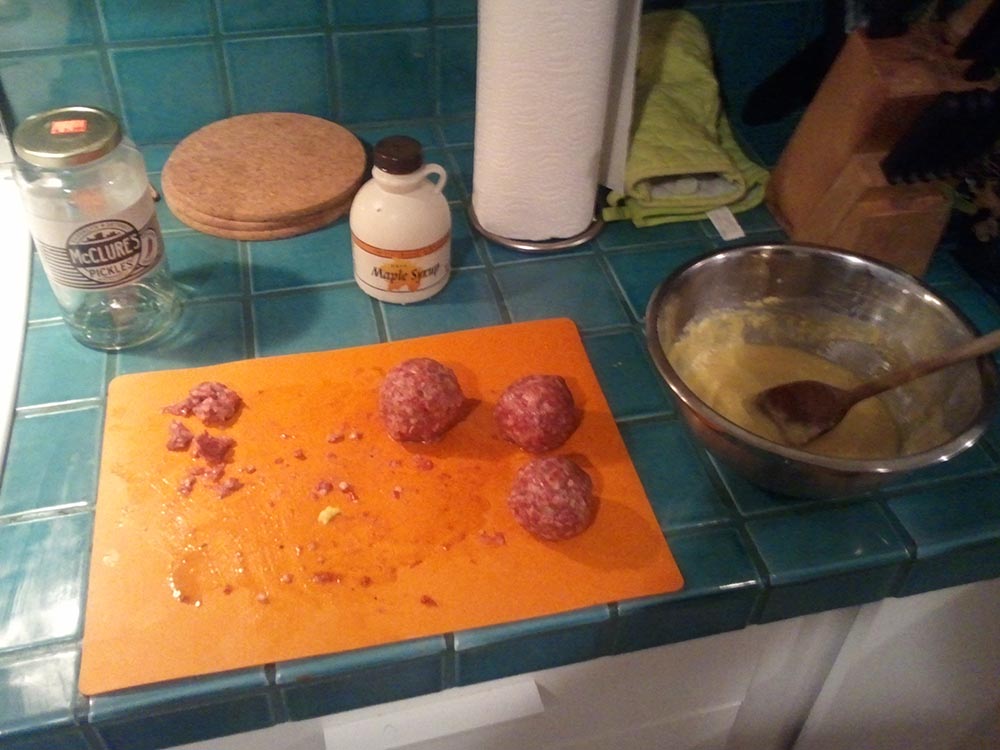 The Palate
The Detroit Egg is a wonderful combination of sweet, savory and spicy flavors, all mixed into one. The most powerful flavor comes from the pickled egg, but the rest of the flavors blend very well with it. I would recommend washing it down with a Faygo Rock N' Rye, or an Atwater Vanilla Java Porter. If you're eating other things, try a piece of celery in between to cleanse your palate.
Serving the Detroit Egg
The Detroit Egg is licensed under Creative Commons, which means I accept no royalties or fees for the marketing, branding, or sale of any Detroit eggs. All I ask is that you stick to the recipe and support Michigan-made products.
The Detroit Egg by DJ Meph is licensed under a Creative Commons Attribution-NoDerivs 3.0 Unported License.